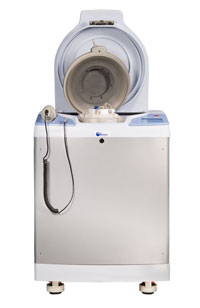 Whole Blood Processing System
The Atreus Whole Blood Processing System puts a new spin on whole blood processing as the first laboratory technology available that automates the steps of whole blood processing in a single system.
This unique system simplifies whole blood processing by consolidating many labor-intensive manual process steps through automation, including:
Balancing ,Centrifugation ,Expression ,Sealing ,Volume determination ,Procedure and process data
For additional flexibility, the Atreus system can effectively process whole blood up to 24 hours after collection with multiple protocols available for component production. The system also allows a choice between platelet additive solutions (PAS) or plasma for platelet suspension.
Advantages of the Atreus system compared to traditional processing:
• Consistent
• High quality components due to better process control
• Lessvariability and fewererrors
• Higherthroughput
• Improved staff utilization with reduced manual steps and hands-on time
• Simplifiedtraining.