Stryker Exeter Hips – more than 400 of them – were first implanted in 1970 at the Princess Elizabeth Orthopaedic Hospital in Exeter, England. Survivorship today is 91.5 percent through 30 years.
Exeter Cemented Femoral Stem
with Distal Centralizer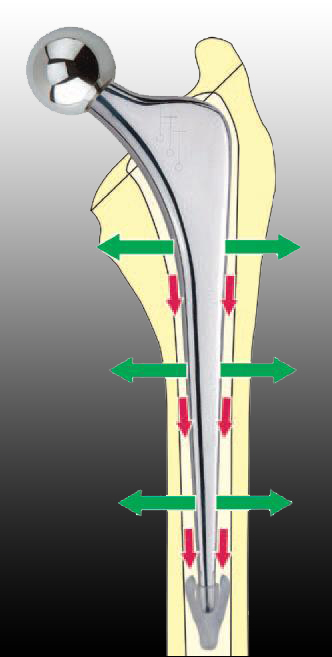 • Highly-polished surface designed to reduce friction
Polished surface helps to reduce friction between the cement and the implant reducing potential for third body wear; polished double tapered design helps to create radial compressive loading.
• Collarless neck helps to facilitate adjustments
Collarless neck helps to allow intraoperative leg length adjustment aided by reference points on both the stem and the rasp.
• Robust choice of size ranges and offsets
Comprehensive selection of size ranges and offsets provide 19 primary stems; 5 long stems are also available that are commonly used for revision cases with Impaction Grafting
• Six offset options for every anatomy
Six offset options (30, 33, 35.5, 37.5, 44 and 50 mm) offer beneficial solutions for almost every anatomy.
• Innovative, hollow PMMA centralizer
Innovative hollow PMMA centralizer is designed to allow stem to engage distally within the cement mantle, subjecting the cement to compressive loading, and reducing end bearing of the stem directly onto the cement.