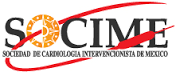 Participation of Rontis in the SOCIME exposition
The Society of Interventional Cardiology of Mexico, SOCIME annual congress took place in Mexico between August 10th and 13th of 2016. Rontis participated in this exposition.
SOCIME was a great opportunity for Rontis to attract new candidate partners and introduce our endovascular portfolio in new markets.