G-Series, it's Smart it's Easy.
Introducing the next generation of pacemakers.
Vitatron's top-of-the-range G-series is built on the success of a company that's dedicated to leading-edge technology without ever compromising the service, relationship and responsiveness you've experienced for over 50 years.
Diagnose, Prevent and Treat
Atrial fibrillation (AF) is associated with significant morbidity, mortality and cost. ACC/AHA/ESC Guidelines for managing AF recommend aggressive treatment to help prevent stroke.
The G-series offers a foil suite of innovative diagnostics and therapies for the early detection, prevention and treatment of atrial arrhythmias.
Reduced Ventricular Pacing + (RVP+)
The new standard of care in pacing is to reduce unnecessary right ventricular pacing to a minimum.
Unnecessary RV pacing increases the risk of atrial fibrillation, heart failure hospitalization (HFH) and mortality.
Every incremental 1% of unnecessary RV pacing increases the risk of AF by 1% and the risk of HFH by 5.4%.
RVP+ reduces unnecessary RV pacing to less than 20%
Continuously searches for natural intrinsic conduction
Quickly optimizes AV delays relative to changes in patient PR intervals
Allows AV delay to be extended up to 600 ms, thus maximizing conduction.
AT/AF Compass provides clear, concise information for detecting atrial arrhythmias and a full array of data for rapid decision making
Tracking the daily burden helps assess rhythm control
Recording the ventricular rate during AT/AF helps assess rate control Assessing the daily percentage of ventricular and atrial pacing helps
reduce unnecessary pacing
Trend data allow you to monitor the results of changes in therapy.
AT/AF Trend records reduced incidence and duration of AT/AF after antiarrhythmic drug therapy.
Rate histogram of ventricular beats during AT and AF records blocked conduction during exercise-induced AT/AF.
G-series pacing therapies manage atrial tachyarrhythmias and may alleviate symptoms With three different pacing modalities:
PMOP provides overdrive atrial pacing at a programmable rate and duration. This may help manage Early Recurrence of Atrial Fibrillation.
Conducted AF Response may reduce symptoms associated with irregular ventricular beats during atrial tachyarrhythmias.
APP maximizes atrial pacing percentage to promote a consistent activation site. This suppresses ectopic beats which may trigger atrial tachyarrhythmias.
Rate Drop Response
Flexible, accurate algorithm detects syncope episodes and intervenes with appropriate pacing therapy.
To simplify patient follow-up, your patient's device is automatically checked every day for:
Lead impedance
Battery status
Atrial and ventricular threshold evaluation
Sensing amplitudes
Atrial and Ventricular Output Management improves patient safety and increases device longevity
Output Management
Regularly measures thresholds and adapts pacing outputs to a safe level, even during changes in patient conditions – completely automatically
Proven safe, simple and accurate
Provides long-term threshold trends
Actively manages battery drain
Sensing Assurance
Measures and adjusts sensitivity to ensure effective sensing
G-Series longevity is increased by more than 8% with output management and RVP+
Cardiac Dashboard II simplifies clinic follow-up, showing the full picture on a single screen.
Patient information includes:
Clinical areas of concern
A quick AT/AF summary
Pacing/sensing data
Device information includes:
Longevity status
Thresholds
Impedance
Sensing data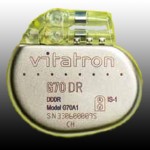 G70DR Dual Chamber
Click at photo
for detailed specifications
about G70DR
G20SR Single Chamber
Click at photo
for detailed specifications
about G20DR