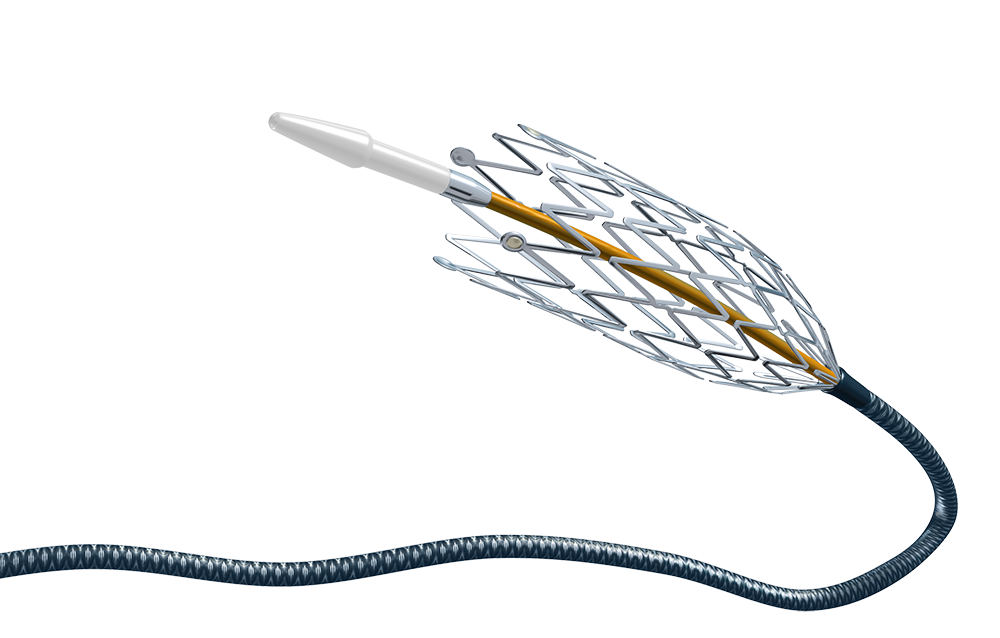 Nitinol Self-Expanding Stent System OTW – 0.035"
"Unsurpassed flexibility in a new and improved single handed system"
Optimizes a balance of flexibility and pushability with radial strength and torsional resistance.
The ergonomic handle ensures single handed, accurate and controlled deployment at the  target lesion site.
Stent design
Constructed of a nickel titanium alloy (Nitinol)
Single-handed delivery system
Bi-directional
Low strut thickness, minimizing the flow disturbance
Optimal stent-to-wall apposition
Consistent radial force for superior vessel adaptation
Insignificant stent shortening during expansion
8 tantalum radiopaque markers (4 at each end of the stent), providing excellent visibility
Delivery device
Low 6F shaft profile ensures enhanced deliverability and patient comfort
New one-piece braided outer shaft with seamless transition for improved pushability, flexibility and stent deliverability
Controlled single-hand delivery
No "stent jumping"
Easy withdrawal system
Minimal force required for easy stent release
Kink-resistance
Radiovisible soft tip for better target location
Zeus® SX Plus Nitinol Self-Expanding Stent System
Mode of exchange:
OTW
Guidewire compatibility (max):
0.035"
Sheath catheter compatibility (min):
6Fr
Radiopaque zones:
(on the catheter)
3 (distal and proximal to stent, distal end of outer sheath)
Usable catheter length:
80 cm, 120 cm
Delivery system:
Ergonomic, single hand
Max. Shelf Life upon Production:
36 months
Stent Specifications
| | | |
| --- | --- | --- |
| Material: | | Nickel titanium alloy (Nitinol) |
| Design: | | Open cell |
| Radiopaque markers: | | 8, tantalum |
| Forshortening: | | Max 2.0% |
User trainings are performed upon request. Due to confidentiality, for further user information/videos please contact us at endovascular@rontis.com.